You'll often find me speaking to a group of children's book writers or mystery writers. Two of my passions! Please contact me by email for more information about speaking to your organization, workshop, conference, or festival virtually.
At this time, all my speaking engagements are virtual presentations.
Friday through Sunday
SCBWI Carolinas Fall Conference
Crown Plaza Hotel
Charlotte, North Carolina
Keynote presenter and workshop on Writing the Middle Grade Mystery
Sunday, 3:00 to 4:00 pm
"Mysterious Minnesota" at Wordplay
Target Stage
Minneapolis, Minnesota
Minnesota-nice meets murder and crime as award-winning authors Allen Eskens, David Housewright, Mindy Mejia, and I reveal the influence of the Land of 10,000 Lakes on our writing (hint: lots of places to put a body.) Moderated by Mystery Writers of America Midwest Chapter president Heather E. Ash.
Monday, 7:00 pm
"Jump Start Your Picture Book"
Twin Cities Picture Book Salon
Open Book
Minneapolis, Minnesota
If you're a children's book author or author-soon-to-be, join us for an evening of lively discussion!
Saturday, 8:30 am to 12:00 noon
Books for Breakfast
Rush Creek Golf Club
Maple Grove, Minnesota
Educators, librarians, and the Minnesota children's book community gather together to celebrate with 5×5 Booktalkers and 27 children's book authors!
Sunday, 3:00 pm
Malaprop's Bookstore
Asheville, NC
Book launch for A Side of Sabotage
Wednesday through Friday
South Carolina Association
of School Librarians
Conference Book Festival
Greenville, SC
Thursday through Saturday
Southeastern YA Book Festival 
Murfreesboro, TN
Friday, 7:00 pm
Malaprops Bookstore 
Asheville, NC
Saturday, 1:00 pm
Spellbound Children's Bookstore 
640 Merrimon Avenue, Suite 204
Asheville, NC
Vampires on the Run book signing event
Afternoon
American Library Association
Annual Conference
Orlando, FL
The Maypop Kidnapping book signing event
Wednesday, 1:00 pm to 4:00 pm
Barnes & Noble
Biltmore Park
Asheville, NC
The Maypop Kidnapping book signing event
Publication date for The Maypop Kidnapping, 
my first book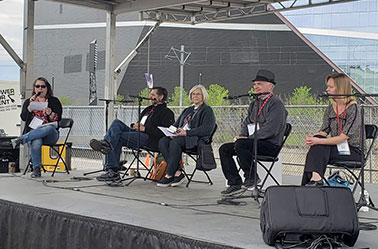 On stage at 2019 Wordplay in Minneapolis with Allen Eskens, David Housewright, Mindy Mejia, and Heather E. Ash, all of us members of Mystery Writers of America Midwest Chapter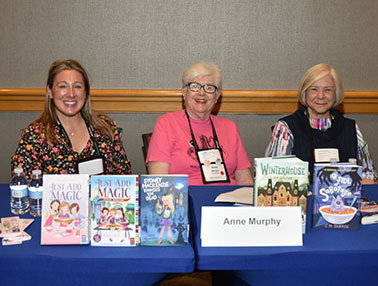 Signing books at Malice Domestic with authors Cindy Callaghan (Just Add Magic) and Anne Murphy (Winterhouse)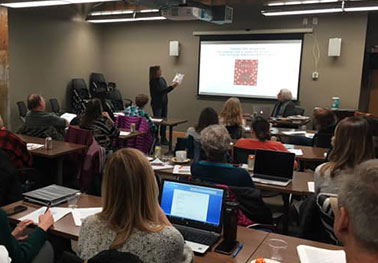 Speaking about picture books at the Twin Cities Picture Book Salon, February 2019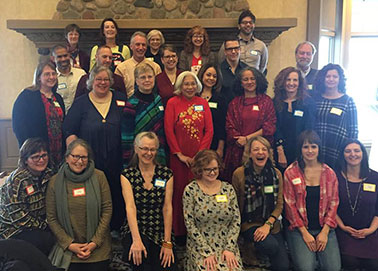 I'm pictured here with 27 authors at Books for Breakfast 2019. You'll spot me in the back row with all the other tall people.
Cynthia supports equity and inclusivity in the world of books and beyond. She is not available for any book events that discriminate against marginalized or underrepresented people, either on the page or off.