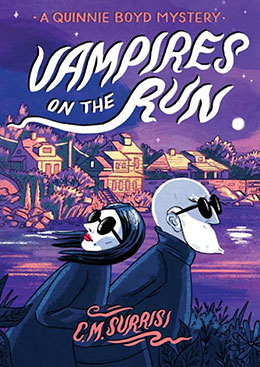 C.M. Surrisi
Carolrhoda, 2017
ISBN 978-1-5124-1150-8
Quinnie Boyd Mysteries Book #2
In the months after Quinnie Boyd cracked the mystery of her missing teacher, she expected life in her small Maine town to snap back to normal. But two black-clad horror writers from New York City have arrived in Maiden Rock, and there's something not quite right about them. 
Ceil and Edgar Waterman claim to get their stories from a real-life, Dracula-style vampire count. It's ridiculous … right? 
But after a series of strange events around town, Quinnie starts to believe it. Sure, Ceil and Edgar are pale. And they dress in all black. And they don't go near the sunlight. But could they really be vampires?
To find out, Quinnie turns to Dominic—a new kid in town who's an expert on everything geeky. Together, they'll risk their necks to find an answer ….
REVIEWS
"An unusual approach to vampires with shudders tempered by plenty of humor. Readers will happily welcome back Quinnie and the Maiden Rockers." (Kirkus Reviews)
"This second outing doesn't suffer from the awkward stumbles that plague many follow-up novels. Surrisi creates characters with memorable personalities that come together in the detailed Maine setting. Unlike some fictional detectives, Quinnie doesn't solve the mystery so much as discover interesting clues, but that seems realistic given her age. Readers will enjoy the reveals as much as Quinnie does, though there are consequences for all of her midnight high jinks. The vampire plot adds to the book's appeal. VERDICT: A lively Maine mystery with spooky elements that kids will relish. The characters are a little older than the intended audience, but the story is suitable for a wide age range." (School Library Journal)
"From its quaint coastal setting, to its collection of quirky inhabitants and visitors, Surrisi sets her snare of mystery to a guaranteed surprising outcome. Once again, Quinnie and cohorts are relentlessly on the case!"(Rita Williams-Garcia, Newbery Honor-award-winning author of One Crazy Summer)
"Espresso-drinking vampires in small-town Maine! What's not to love about that? A fast-paced page turner with just the right amount of spooky. C. M. Surrisi is a master of middle grade mystery." (Barbara O'Connor, award-winning author of How to Steal a Dog)
"Surrisi concocts a juicy small-town mystery out of tantalizing incidents and clues, red herrings, wild imaginings, thrillingly risky management (and mismanagement) of parental expectations, and plot twists that here range from literary legerdemain to a real bank robbery. Quinnie's present-tense account flies along to a scary (but tragedy-free) climax that delivers just deserts to all, while leaving her, inexplicably, not grounded for life. A comfy romp." (Booklist)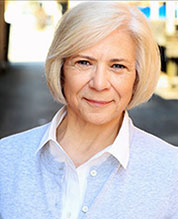 Receive notifications by e-mail when there's book news to share.