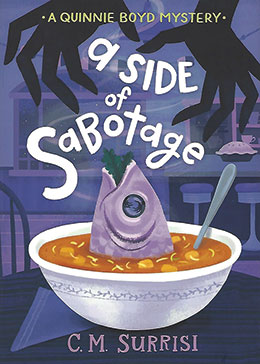 C.M. Surrisi
Carolrhoda, 2018
ISBN 978-1512-4483-68
A Side of Sabotage
Quinnie Boyd Mysteries Book #3
For decades, Gusty's Café has been a beloved staple in Maiden Rock, Maine. Quinnie Boyd's dad runs the café, just like Quinnie's granddad before him. But the family business has new competition when a bad-boy chef from Boston opens his own place in the small vacation town.

The new restaurant takes fancy dining to the extreme. Still, that's not a crime … but when things start to go wrong at Gusty's, Quinnie suspects foul play. Are the people behind Restaurant Hubert trying to squash the Boyds' family café? Quinnie is about to find out if it is a coincidence—or sabotage.
HONORS AND RECOGNITION
Agatha Award nominee
REVIEWS
"Surrisi surrounds her pushy protagonist with teen peers who join the investigation with varying degrees of reluctance, and stocks the adult supporting cast with plenty of suspects, obvious and otherwise. She also tucks in much eating and drinking in order to create comical contrasts between the new eatery's haute cuisine ('lobster quenelle poached in seaweed broth and finished with a beam of light') and Gusty's mouthwatering pies, pastries, and like plain fare. Young fans of both cozies and foodie-themed tales will find much to savor in this latest outing." (Booklist)
"Plenty of red herrings will keep readers guessing until the climax." (Kirkus Reviews)
"I like that this mystery has enough adventure and tension to make it a compelling read. But like its predecessors, it's not too scary or violent for middle grade readers. I kind of wish Quinnie would trust her mother to help her more when she finds clues or discovers new evidence. Quinnie's mom is also Maiden Rock's sheriff. And while Quinnie wants to solve things on her own, she frequently compromises evidence or creates new problems that only complicate efforts to find the culprit in the restaurant mischief. That frustrates the grownup in me, but I'm sure this book will be a popular mystery among young readers." (Jana the Teacher, blog)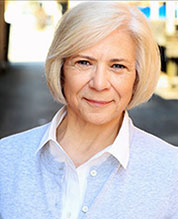 Receive notifications by e-mail when there's book news to share.